15.01.2020
Graham Bates from SEKISUI DIAGNOSTICS (UK) was the lucky winner of the Football Bet at last year's SEKISUI European Football Tournament and was pleased to support a non-profit organization close to his heart: "Heart of Kent Hospice". He now handed over the cheque with the prize money of 430 EUR.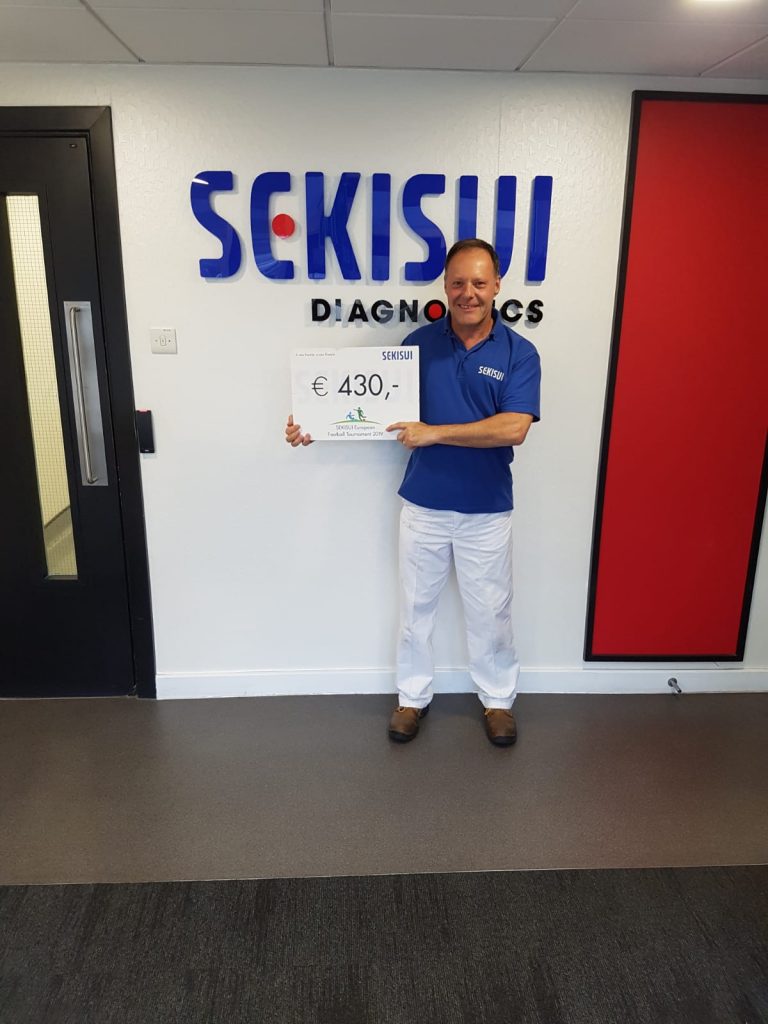 For the third time in a row, all SEKISUI employees were able to bet on their favourite team at the European football tournament – and support a good cause. While € 70 goes to the winner himself, € 430 are donated to a charity by SEKISUI. Last year's winner was Graham Bates, Process Technician at SEKISUI DIAGNOSTICS in Maidstone, Kent. With his correct tip on Team Mepke, he won the bet and was very pleased to hear about the cheque. He donated the money to the charitable organisation "Heart of Kent Hospice".
Heart of Kent Hospice cares for people with a terminal illness. Whether at home or in the Hospice based in Aylesford, Kent, the team provides support to patients, their families and carers to live in comfort and dignity through their illness.
"We are very grateful to Graham Bates and SEKISUI EUROPE B.V. for their generous donation to Heart of Kent Hospice. As an independent charity it costs us around £4 million each year to provide our specialist services. This donation will enable a member of our hospice community team to visit three patients in the sanctuary of their own home. For us, it is very important that people can be cared for in their place of choice and retain their independence. Thank you on behalf of the hospice." (Lawrence Edmead, Corporate Partnerships Manager)
We hope that the money donated by SEKISUI will bring a smile to many faces. We are very happy to see where the donation goes and would like to thank everyone who took part in the bet!
If you would like to learn more about Heart of Kent Hospice, please visit: https://www.hokh.org/
These articles could also be of interest for you: