10.10.2018
Clare Chaffey literally lives KAIZEN. In her role as Senior QA (Quality Assurance) Documentation Supervisor at SEKISUI Diagnostics in Kent she is managing the online documentation and training system (CATSWeb) and is providing support for other users. Also, managing the quality records archives and releasing the batch folder documentation for Production is part of her job.
After work Clare supports the idea of KAIZEN. As KAIZEN leader of the Kent-site she leads the team* to implement a sustainable KAIZEN culture. Clare represents the site at global Diagnostics Divisions meetings, publishes a KAIZEN comic every other month and maintains the KAIZEN intranet site on the Diagnostics division intranet**. Wow!
In the following interview Clare reveals how she runs all these tasks. Thanks a lot for your insights, Clare!
Why do you think KAIZEN activities are so important?
Most working processes have waste and variation built into them. Then over time you find problems arising. By performing KAIZEN activities, you can fix problems and reduce or even remove the waste and variation. This means saving time and money for the company – which is always important. It is also a good way for people, who are running these processes, to make changes that directly affect them. They can help fix a problem that annoys or even hinders them during their day. This empowers the staff and increases morale within the company.
What are challenges regarding KAIZEN?
I think implementing a new culture is always challenging as people are used to thinking and working in a certain way. It's human nature to see a problem and start thinking how to fix it, using your own experience. However, you may not be identifying the true root cause(s). It is difficult to change that mindset and get people to stop and think about a different approach, especially if it means taking a step back to see the larger picture and start collecting data. This is only made more challenging when process deadlines are involved.
How/where do you find the topics for your KAIZEN projects?
Ideas for KAIZEN activities generally come from the department managers or from the staff highlighting problems during their daily tasks. They may also come from senior management if a specific problem needs to be addressed.
How much time do you spend on KAIZEN activities?
I spend approximately 2-3 days a month on KAIZEN duties. I arrange monthly meetings with the review team, the governance team and the global team. These meetings are mainly designed to review and approve any new KAIZEN activity suggestions that have been raised. We discuss all KAIZEN issues for the site and globally for the division. For members of the review team who are facilitating projects, they are assisting the project leaders in using whichever KAIZEN tools are necessary for a project e.g. helping to prepare Pareto graphs, aiding in brainstorming sessions, data analysis, etc. Then every other month I publish the KAIZEN comic.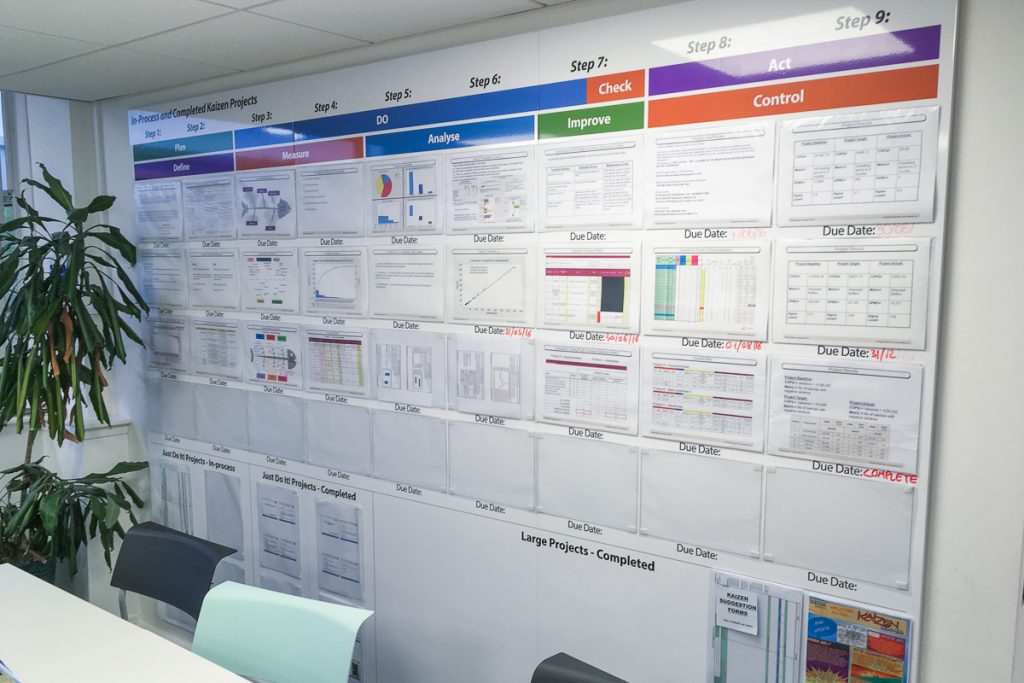 How did you get the idea to publish a KAIZEN comic?
The idea really came from 3 main things we wanted to achieve:
Give regularly updates to the staff about KAIZEN.
Increase understanding of KAIZEN terminology/tools/topics.
Re-vamp the topic and inject an element of fun to boost staff engagement.
Rather than publishing a generic newsletter we decided on the idea of a comic!
How often is it published and what topics are featured?
The comic is published every other month (6 editions a year).
Page 1 usually features general updates about the site, future training info, global info, European KAIZEN convention info, etc.
KAIZEN Showcase highlights a completed KAIZEN activity from the site. This is to publicize an idea implemented by one or multiple departments to the whole site/Diagnostics division. Hopefully this sparks another idea somewhere else, leading to more activities.
The KAIZEN Corner is designed to give a quick refresher to the reader of a KAIZEN tool e.g. how to use a pareto graph, what are the different types of data, etc.
Usually, there is a competition to help engage readers. And we also include a contact details section to help readers with queries
How is it distributed and to whom?
A pdf copy is sent to all the staff at the Sekisui Diagnostics, UK site with paper copies placed in the canteens. An e-mail is also sent to the KAIZEN leaders at the other Diagnostics sites (USA and Canada). A copy is also available on the Diagnostic Divisions KAIZEN intranet page.
The latest KAIZEN comic by Clare and her team.

The latest KAIZEN comic by Clare and her team.
What do you like the most about being part of a KAIZEN team?
Facilitating projects is an interesting way to see how other departments work. Sometimes it also means that you work with someone in the company that you normally would not interact with. I also really enjoy creating the comic and maintaining the intranet sites.
What would you recommend someone who is interested in KAIZEN?
I would recommend that they talk to their line manager and express their interest in the topic. Then they can start to get involved in the KAIZEN activities happening on their site. That would give them a practical introduction to the process and the tools that can be used.
*Back row from left to right: Richie Stroud, Jim Welham, Pat Soussana, Vicky Wilson
Front row left to right: Joe Mitchell, Liz Thormann, Jade Punter, Clare Chaffey
Not on the picture: Jon Blundell, Michael Duggan
**The Diagnostics division has sites in the UK, San Diego, Lexington, Pfungstadt and PEI, reporting to SEKISUI Medical.